Sustainability test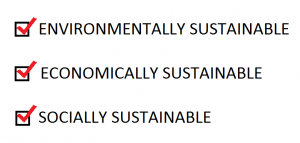 All legislation and government actions need to be economically, environmentally and socially sustainable in order to ensure they are cost effective, will not degrade the environment and will encourage behaviours that promote a healthy society.
Economically Sustainable means that fiscally the decisions the government is making make sense. The cost of the program is offset by the benefit that is provided to the province. With all government spending and government statistics made public it will be easy for British Columbians to see whether government programs are worth the cost and it will be hard for governments to justify programs which are not socially sustainable.
Environmentally Sustainable means that the government program or action does not negatively impact the environment in a way that is irreparable. Degradation to the environment in one area will need to be offset by an improvement in the environment in another area. All government programs will be given an environmental grade so that British Columbians can see the true cost of the programs the government is undertaking.
Socially Sustainable means that government legislation and actions encourage responsible behaviour, healthy living, the creation of community and culture, and the elimination of crime.